Tuesday, March 2nd, 2010
Tripawds is a user-supported community. Thank you for your support!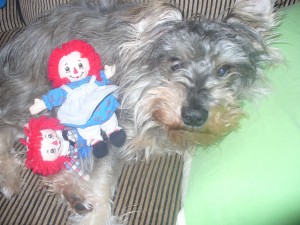 I think I am starting to see outward signs of the cancer that I know is in Toto's body.  Lately, Toto seems to be more tired, and he sleeps very soundly.  Sometimes when he is sleeping it sounds like he is breathing heavier (but that could be in my head).  His appetite is also starting to decrease.  Of course I worry about him.  I am a mom.  It's my job.
But for whatever negatives I see, I also see a dog who is not ready to leave us.  As soon as I start to worry that he is not eating, he goes back to his bowl and finishes his dinner.  Then he runs over and brings me a toy.  It is as if he is trying to show me, "See?  I am fine.  Really!"  And when he seems lethargic and I begin to worry he is slowing down, then he will jump off the couch and go play with the other dogs.  He is still his feisty self.  He plays just as rough as ever.
So while I know that Toto is physically sick, I also know that mentally he is stronger than ever.  He is not going to leave us without a good fight.