Tripawds is a user-supported community. Thank you for your support!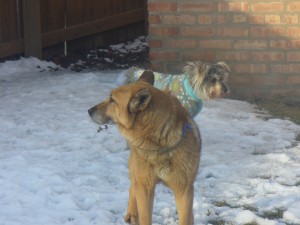 So, first I have to say…  thank you so much for all of your comments and support!  I am so happy for Toto celebrating his 6 month ampuversary.  I wanted a miracle for him, and no matter what happens now, he got his miracle.  Although I don't post that much, I love to keep up with the stories of your tripawds.  I am inspired by your triumphs and heartbroken at your pain.  This is such a special community, and I am so glad that I found it.
Things have been moving along with us we prepare to move.  It has been crazy, but we are hanging in there.  Then, yesterday, my husband tells me that one of the rescues we have been in touch with has found a foster home for Dexter.  This is what we have been wanting… what we have been waiting for.  So, why then, did it feel like I was punched in the gut?  Dexter has been here for months now, and he still has at least another month of heartworm treatment.  It is really going to hurt to see him go.  A lot. 
Part of it is that he has such a sad story.  He is the underdog, and I always root for the underdog.  He is the dog that nobody will give a chance.  I want him to have that chance. 
Part of it is that I am afraid we will give up Dexter and then something will happen to Toto.  The thought that I could lose two dogs just seems unbearable.
And, part of it is that he is just such a sweet dog.  I guess at this time I was just really getting used to have Dexter around…  and now he is leaving.
You said you caught me cause you want me and one day you'll let me go.
You try to give away a keeper, or keep me 'cause you know you're just scared to lose.