Tripawds is a user-supported community. Thank you for your support!
I want to start out by saying, Merry Christmas to you and your tripawds!  I hope everyone is enjoying the holiday season.
The weekend before Christmas we went to visit my in-laws.  We can't bring our dogs with, so we left them with my parents.  We have done this many times, but not since Toto became sick.  I was a little leary about leaving him, but Toto loves my parents (and their dogs) maybe more than he loves us :-), so I tried to relax.  My mom called a few times over the weekend and everytime I feared the worst.  Luckily, though, Toto was having a great time and even went to see Santa Claus!  My dad said that Toto was a big hit at the store.  I am not sure what Toto asked Santa for, but I hope he gets it. 🙂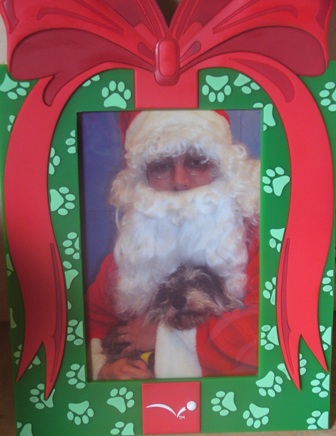 We had a very nice Christmas.  It was super busy, as always, but nice.  Our kids, and pets, all seemed very pleased with their presents.  The best present I got this year was just having Toto with us.  After all of the rough times we have had this year I am looking forward to the new year… a fresh start.  Happy New Year to you and yours!
Love,
Kristin, Toto, and fam