Monday, July 12th, 2010
Tripawds is a user-supported community. Thank you for your support!
I cannot thank you enough for all of your well wishes.  I have read your comments on my blog and on the forum over and over.  I think I have cried at every one of them.  I am so grateful for the tripawds community.
This weekend I have been busy.  This weekend I have been (pretty) strong.  Now I just want to be sad and mourn the loss of my baby. 
From the day we found Toto, we knew he was a sweetie.  We found him with another stray and he would curl up and sleep next to him.  He was a dog, abandoned, living on the streets, who was just looking for love.  And then, we found him.  Well, I guess I should say that he found us.  I don't believe for a second that it is a coincidence that he showed up at our house.  We took him in.  We gave him a second chance.  And Toto, never for one second, forgot that.  We thought that we were helping him by taking him in.  But, he blessed us more than we ever could have imagined. 
Toto was a dog who was just happy to be here.  He loved being outside, he loved French fries, he loved sleeping in my arms, he loved his dog friends, and he loved us.  I have never felt as loved as I did when I was with Toto.  I hope to be half the person that Toto saw when he looked at me.
When Toto was diagnosed with cancer we were devastated.  He was only three years old.  But Toto faced cancer and amputation the same way that he approached life – with a twinkle in his eye and a bounce in his step.  I think Toto was faster on three legs than he had been on four legs.  He would still rough house with the other dogs and run to the door when someone came over.  For a little dog, he was quite the watchdog.  Toto was the sweetest boy, but he also had a feisty side to him. 
Even as Toto got more and more sick, he never stopped fighting.  He just didn't want to let go.  He also didn't want to upset us.  Even facing death, he was trying to make us happy.  I would be worried about him, afraid he was slowing down, and then he would jump up and play.  I would be upset that he wasn't eating, and then he would run over and finish his food.  Just last week he was laying down and I was afraid that the end was near.  Then he saw me looking at him and jumped up and wagged his tail.  Toto had a tiny little tail.  We called it his "nubbin."  When he got excited he would wag his little nubbin and his whole body would shake.
I am not sure what I will do without him.  I heard one of our dogs coming down the stairs this morning and my first thoughts was, "Tooter is awake!"  And I almost got up to go get him, and I realized that he is not here.  And I wake up in the morning and out of habit look in his bed for him.  And he is not here.  My four year old son says that I should talk to God and tell him that Toto is my "favorite person ever," and then maybe God will give him back to me.  I just hope and pray that Toto is in a better place.  I hope that Toto has crossed the Rainbow Bridge and now he can run free…  with all four legs, and without the cancer that destroyed him.  I hope that I will see him again someday. 
I never thought that I could learn so much from a scruffy little gray dog.  Toto showed me otherwise.  I learned about loving unconditionally, and showing how you feel, and living life to the fullest…  everyday.  Toto faced life and death with a big heart and a brave soul.  We are forever grateful Toto came into our lives.  Rest in peace my sweet baby.  I love you.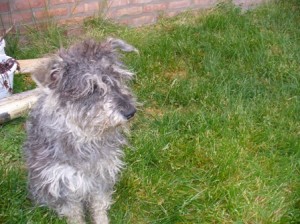 Toto, the day he showed up at our house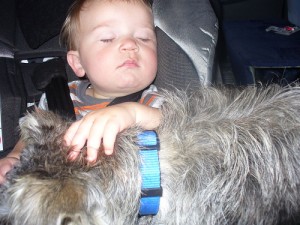 Sleeping in the carseat with my oldest son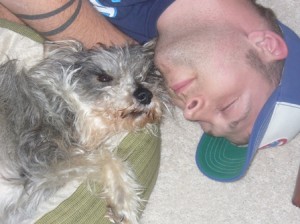 Papa was the one who decided we were keeping Toto, he never could say no to that face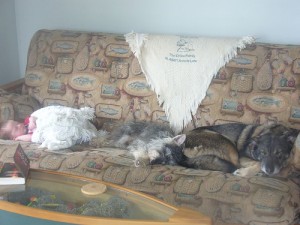 Taking a nap with my youngest son and Stella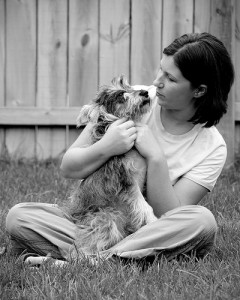 My baby